ALMA and Parquemet invite you to a "Weekend Under the Stars"
23 February, 2017
The ALMA observatory will join activities in celebration of the centennial of the Santiago Metropolitan Park and Women's Month, and invites families and friends to attend two outdoor events to be held free of charge in the Pablo Neruda Amphitheater on March 4 and 5, under the name Weekend Under the Stars.
On Saturday, March 4, one of the most anticipated events of the year will be held from 8:00 pm until midnight: the 9th version of the Gran Noche de Estrellas, which will include live music, an audiovisual introduction by Astrovlog, followed by a talk from ALMA astronomer, Liza Videla, and a stargazing session with telescopes.
The following day, at 7:30 pm on Sunday, March 5, the public is invited to celebrate the 100th birthday of Chilean singer-songwriter, Violeta Parra. As part of the Santiago Metropolitan Park's Cine bajo las estrellas, it will be showing two movies: the documentary Violeta más viva que nunca (Violeta, more alive than ever) and the movie "La Vida de los Peces" (The Life of Fish). There will also be a family fair.
Access to activities on both days – from 7:30 pm on Saturday, March 4, and from 6:00 pm on Sunday, March 5 – will be provided by free shuttles at the Pío Nono entrance.
·         If you would like to participate in these activities, please sign up in advance at http://www.welcu.com.
·         Space is limited.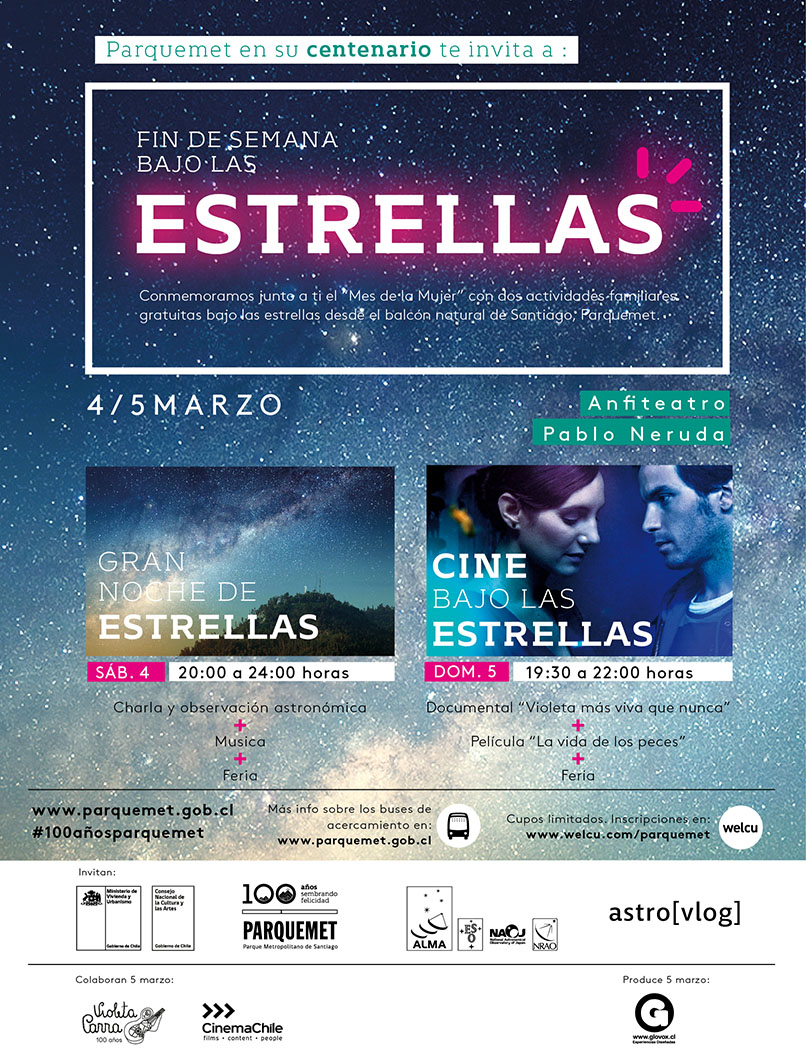 Additional information
ALMA is a partnership of ESO (representing its member states), NSF (USA) and NINS (Japan), together with NRC (Canada), NSC and ASIAA (Taiwan), and KASI (Republic of South Korea), in cooperation with the Republic of Chile. The Joint ALMA Observatory is operated by ESO, AUI/NRAO and NAOJ.