Participate in ALMA-ESO Open House Day in Santiago
8 March, 2018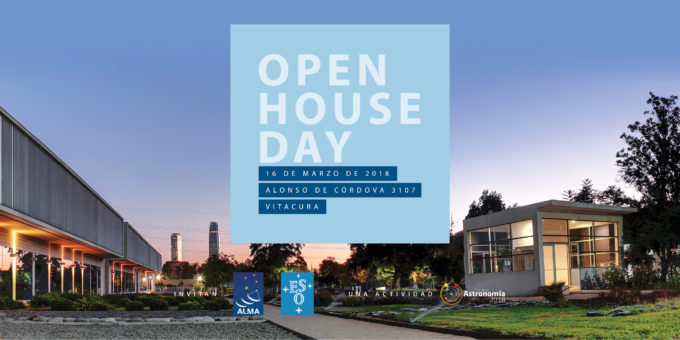 To kick off the 2018 Astronomy Day activities, on Friday, March 16, ESO and ALMA open their doors in Vitacura to the public.
For the fourth year in a row, the Atacama Large Millimeter/submillimeter Array (ALMA) and the European Southern Observatory (ESO) celebrate the 2018 Astronomy Day in Chile with a free open house in their Santiago headquarters at Alonso de Córdova 3107, Vitacura. On this opportunity, we will also be celebrating ALMA's fifth anniversary.
In the morning, municipal schools from the districts of María Pinto and Vitacura, invited in collaboration with the Municipality of Vitacura, will participate in diverse entertaining, hands-on activities related to astronomy, such as: water rocket launch, creation of an artificial comet, and the making of an astronomical mural alongside artist Silvana Zuñiga. The public is also invited to interact through video conference with scientists and engineers in the Paranal, ALMA and La Silla observatories located in the Regions of Antofagasta and Coquimbo, respectively.
Afternoon activities will be open to the public, including interesting talks and workshops on astronomy.  Due to limited space, if you would like to participate, please sign up through Welcu.
We look forward to seeing you on Friday, March 16!
ALMA Women in Parquemet
To kick off the 5-year celebration of ALMA and in celebration of women, on Saturday, March 10, we will hold a new Great Night of Stars in the Metropolitan Park, starting at 7:30 pm.
All information about the event and free tickets are available on the event site. If you missed the chance to get tickets, you can use one of our special ALMA slots using the promo code ALMAWEB.
Additional information
ALMA is a partnership of ESO (representing its member states), NSF (USA) and NINS (Japan), together with NRC (Canada), MOST and ASIAA (Taiwan), and KASI (Republic of Korea), in cooperation with the Republic of Chile. The Joint ALMA Observatory is operated by ESO, AUI/NRAO, and NAOJ.