North American Ambassadors of Astronomy visited ALMA
1 February, 2018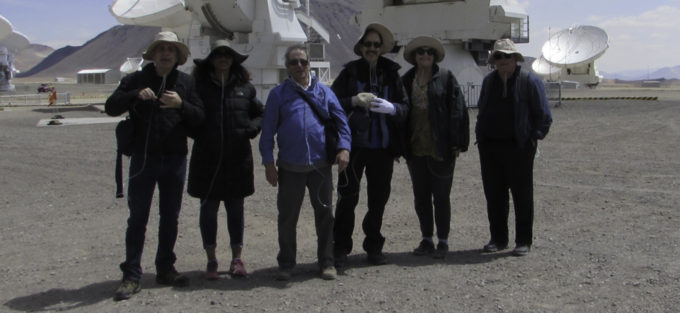 A team of four outreach and education professionals from the United States undertook a 10-day expedition to key astronomy research sites financed by North America in Chile. The outreach professionals were selected to be part of the 2018 Astronomy in Chile Educator Ambassadors Program (ACEAP).
The 2018 version of ACEAP included vists to ALMA from Rebecca Ljungren, an astronomy educator at the Smithsonian National Air and Space Museum, Pat Hanrahan, director of the Mt. Hood Community College Planetarium in Gresham, Oregon, Jack Howard, volunteer outreach educator in NASA's Solar System Ambassador program, who also teaches astronomy, physics, and math at community colleges in the Charlotte (NC) area, and Joel Goodman, amateur astronomer and informal educator in Howard County, Maryland.
"Chile is rapidly becoming the astronomy capital of the world, providing a window to the Universe and discoveries that benefit all of humanity," said Tim Spuck, leader of the ACEAP project and education officer for Associated Universities, Inc. (AUI), ALMA's North American partner. "It's important for astronomy educators and outreach professionals to experience for themselves this unique and special place that is home to modern-day astronomy."
The ACEAP program shows the selected outreach professionals the experience of major observatories funded by the US National Science Foundation (NSF) in Chile, including the Atacama Large Millimeter/submillimeter Array (ALMA), the Cerro Tololo Inter-American Observatory (CTIO), the Southern Astrophysical Research (SOAR) telescope, and the Gemini South Observatory. In addition to learning about the different instruments, science, and research that comes out of these cutting-edge facilities, the Ambassadors also visited the Andean Astronomical Observatory (AAO), one of the largest private observatories offering astrotourism programs in the Santiago vicinity, Chile.
ACEAP, which has 32 members to date -one of which is Chilean- focuses on building a diverse and lasting community of educators who share their newfound knowledge and experiences with local communities through a range of formal and informal science-education activities.
Additional Information
The Astronomy in Chile Educator Ambassadors Program is a collaborative project of Associated Universities Inc. (AUI), the National Radio Astronomy Observatory (NRAO), Association of Universities for Research in Astronomy (AURA), the National Optical Astronomy Observatory, and Gemini Observatory, and is supported by the NSF.
ALMA is a partnership of ESO (representing its member states), NSF (USA) and NINS (Japan), together with NRC (Canada), MOST and ASIAA (Taiwan), and KASI (Republic of Korea), in cooperation with the Republic of Chile. The Joint ALMA Observatory is operated by ESO, AUI/NRAO and NAOJ.