US Congress Representatives visit ALMA
4 April, 2018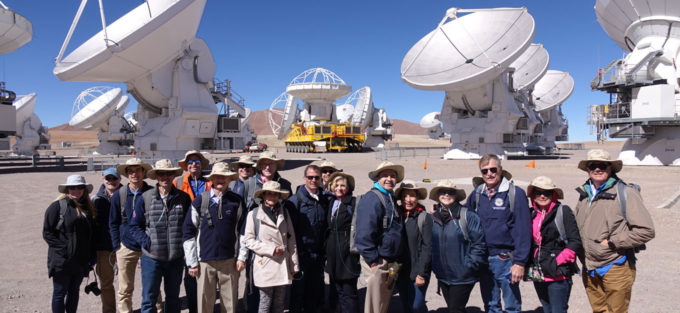 Today, a delegation of 13 member of the United States House of Representatives Committee on Science, Space and Technology visited the Atacama Large Millimeter/submillimeter Array (ALMA) Observatory in northern Chile.
"We are very honored to host these members from the House and introduce them to ALMA. This committee has been instrumental in the United States with the development of this observatory, as they oversee the budget of the National Science Foundation (NSF), the institute that provides the funds for ALMA from North America," said Sean Dougherty, the new Director of ALMA.
The purpose of the visit, which also included Congress and US embassy staff, was to observe firsthand the ALMA telescope and support facilities, the most sought-after astronomical observatory. "With over 6,000 registered users and 1,600 annual observation proposals, ALMA's images and studies of the cold and distant Universe are constantly opening new scientific horizons," asserted NSF Program Manager Phil Puxley.
The delegation was welcomed to ALMA by Dougherty and Puxley, as well as Adam Cohen, President of Associated Universities, Inc. (AUI), and Paulina Bocaz, Representative of AUI/NRAO in Chile.  The group toured the Array Operations Site at 5,000 meters atlitude and the ALMA Operations Support Facility at 2,900 m where they visited the technical building, the laboratories, and the staff residence.