Groundbreaking ceremony for indoor sports facility at the ALMA Observatory
3 March, 2018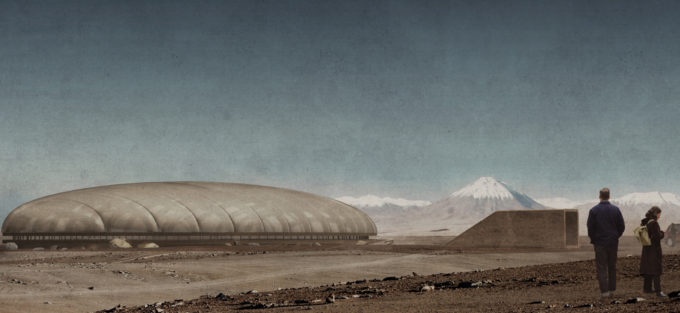 A groundbreaking ceremony was held on March 2nd to kick-off the project of an indoor sports facility at the ALMA base camp. In attendance were representatives from Associated Universities, Inc. (AUI), the National Radioastronomy Observatory of the United States (NRAO) and the Atacama Large Millimeter/submillimeter Array (ALMA).
The facility will include a multipurpose court to play indoor soccer, basketball, volleyball and tennis, as well as separate space for exercise equipment, a first-aid room, restrooms and storage space. This project is made possible thanks to contributions from the National Science Foundation (NSF) and the National Radio Astronomy Observatory (NRAO). Phil Jewell, NRAO deputy director, highlighted: "We are happy and proud to deliver on this long-awaited project, thus promoting the healthy lifestyle of those who work at ALMA".
Improving the living conditions and opportunities for leisure of the ALMA workers are some of the objectives to be fulfilled with this work. "Our employees work in a shift system. As a result, the observatory becomes their home away from home, so it is of vital importance that the observatory has functional and comfortable recreational installations", said Sean Dougherty, new ALMA director.
Toptent Ingeniería y Construcción SpA, Constructora Sergenco and Múrua Arquitectos Asociados will be responsible for the engineering, design and construction. To help with temperature control, energy efficiency and ventilation, the innovative design uses a semi-buried structure, reinforced concrete walls and a double tensile membrane as cover. Visual impact is mitigated by the blackout membranes and landscaping that considers the natural mineralogy of the area.
"ALMA staff requirements were key inputs during the evaluation of bidding offers; these requirements were captured through a survey, focus groups and general information sessions", said Paulina Bocaz, AUI/NRAO representative in Chile, who added that construction is expected to begin by the middle of this year, with delivery of the facility in mid-2019.
Additional Information
ALMA is a partnership of ESO (representing its member states), NSF (USA) and NINS (Japan), together with NRC (Canada), MOST and ASIAA (Taiwan), and KASI (Republic of Korea), in cooperation with the Republic of Chile. The Joint ALMA Observatory is operated by ESO, AUI/NRAO and NAOJ.
Associated Universities, Inc. (AUI) is a US non-profit corporation that, under a cooperative agreement of the National Science Foundation of the United States (NSF), operates the US National Radio Astronomy Observatory (NRAO). Currently in Chile, AUI/NRAO collaborates with research institutions in Europe and East Asia in the operation of ALMA. In the United States, AUI/NRAO operates the Karl G. Jansky Very Large Array (VLA) telescope set in New Mexico. AUI also manages the Green Bank Observatory (GBO) and the Long Baseline Observatory (LBO). For more information visit: www.aui.cl