ALMA and University of Antofagasta launch educational project EduALMA
10 August, 2015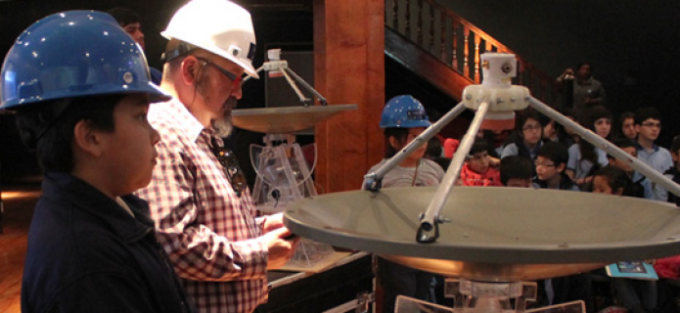 Over 200 children were present from different astronomy academies in Antofagasta for the launching of EduALMA, an unprecedented project developed by the ALMA observatory and the Astronomy Unit of the University of Antofagasta (UA). The purpose of EduALMA is to develop prototypes of functional mock-ups of the observatory's antennas, which provide a didactical explanation of how a radiotelescope studies the Universe.
"Thanks to these antenna prototypes, we are able to bring the public closer to concepts that are difficult to explain, such as spectroscopy and interferometry, which are key to understanding how ALMA is able to unlock the secrets of the Universe," explains Valeria Foncea, ALMA Education & Public Outreach Officer.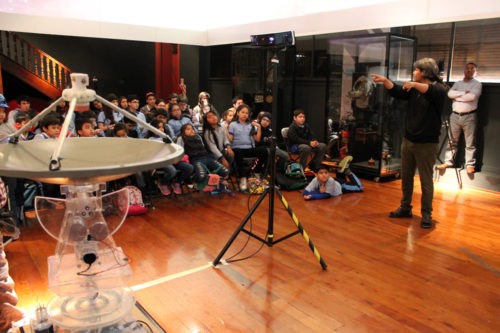 Credit: ALMA (ESO/NAOJ/NRAO)
The most remarkable aspect of these mock-ups is that in addition to explaining radioastronomical concepts, they also generate real data, resulting in a tangible and interactive approach to science. While one prototype will remain with ALMA for students to test in traveling exhibits, another will be displayed in the Astronomy Unit of the University of Antofagasta and in other activities in the region.
EduALMA strengthens the connection between the scientific world and education, bringing schools closer to radioastronomy, but also to astro-engineering: the integral development of the antennas is a collaborative effort of the UA and ALMA engineering teams. "We are very excited about the contribution we are making to the quality of scientific education regionally and nationwide, and we hope to receive an equally enthusiastic response from students and educators," shares Eduardo Unda-Sanzana, director of the Astronomy Unit at the University of Antofagasta.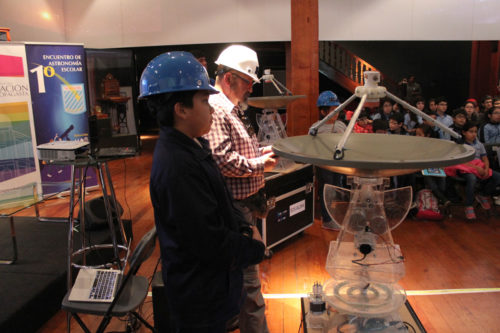 Credit: ALMA (ESO/NAOJ/NRAO)
The EduALMA project was financed with funds from the 2nd National Competition on Social Adaptation Products from Science and Technology, part of the EXPLORA CONICYT program. It was launched in Antofagasta in the "1st Student Meeting of Scientific Academies", organized by the School of Astronomy of The Giant Schoolin the Antofagasta Station Cultural Center.
More information, photographs of the construction of prototypes and video of the project can be found on the official EduALMA website: http://www.edualma.cl.
More information 
ALMA is a partnership of ESO (representing its member states), NSF (U.S.) and NINS (Japan), along with NRC (Canada), NSC and ASIAA (Taiwan), and KASI (South Korea), in cooperation with the Republic of Chile. The Joint ALMA Observatory is operated by ESO, AUI/NRAO and NAOJ.
Contact:
Valeria Foncea 
Education and Public Outreach Officer
Joint ALMA Observatory
Santiago, Chile
Tel: +56 2 467 6258
Cell: +56 9 75871963
Email: vfoncea@alma.cl