Announcements
ALMA actively participates in Science Month in Chile
3 October, 2014 / Read time: 3 minutes
Fig. 1: Credit: ALMA(ESO/NAOJ/NRAO)
With lectures, stands and traveling exhibits, ALMA Observatory is participating in a range of activities organized by universities, schools and Explora-Conicyt in October to celebrate Science Month in Chile.
"These events are a fantastic opportunity to show what we do and what we have achieved recently at ALMA, bringing scientific knowledge to the public," said ALMA Director Pierre Cox.
Yesterday, the University of Chile's Physical Sciences and Mathematics Department inaugurated its 2nd Festival of Engineering and Science, with the theme "Let your ingenuity soar." Alejandro Sáez, technical leader of the ALMA correlator and data transmission system, as well as a former student of the department, will give a presentation about the observatory that is open to the general public on Saturday, October 4.
"Chile is contributing highly specialized human capital and also becoming a place where many astronomical projects are converging. That's why these kinds of events are very important for informing people about the opportunities for technology transfer and human capital development in the coming generations," Sáez said.
Children can get all their questions answered at the ALMA stand in Santiago's Quinta Normal Park from October 8 to 11, during the 8th Science and Technology Festival. "ALMA has become an important partner," said Carola Gutiérrez, coordinator of the event organized by Conicyt's Explora Program.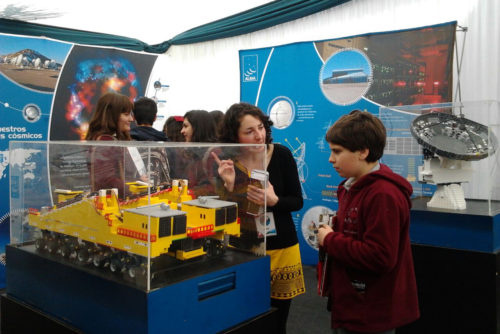 Fig. 2: Credit: ALMA(ESO/NAOJ/NRAO)
Leading researchers from around the world, including ALMA Director Pierre Cox, will give presentations on diverse scientific topics during the 2nd International Conference on Scientific Culture, organized by the Center for Science Communication at Andrés Bello University. The conference, which will take place from October 20 to 22 at La Moneda Palace Cultural Center, will kick off with a talk by Dr. Richard Roberts, who was awarded the Nobel Prize for medicine in 1993.
Also, in response to the high level of interest in "ALMA: The Search for Our Cosmic Origins," the traveling exhibit will pay a visit to Colegio Colonial's Science Fair in Pirque on October 30, as part of its tour of schools in the Santiago Region.
Fig. 3: Credit: ALMA(ESO/NAOJ/NRAO)
More Information
The Atacama Large Millimeter/submillimeter Array (ALMA), an international astronomy facility, is a partnership of Europe, North America and East Asia in cooperation with the Republic of Chile. ALMA is funded in Europe by the European Southern Observatory (ESO), in North America by the U.S. National Science Foundation (NSF) in cooperation with the National Research Council of Canada (NRC) and the National Science Council of Taiwan (NSC) and in East Asia by the National Institutes of Natural Sciences (NINS) of Japan in cooperation with the Academia Sinica (AS) in Taiwan. ALMA construction and operations are led on behalf of Europe by ESO, on behalf of North America by the National Radio Astronomy Observatory (NRAO), which is managed by Associated Universities, Inc. (AUI) and on behalf of East Asia by the National Astronomical Observatory of Japan (NAOJ). The Joint ALMA Observatory (JAO) provides the unified leadership and management of the construction, commissioning and operation of ALMA.
Contact:
Valeria Foncea 
Education and Public Outreach Officer
Joint ALMA Observatory
Santiago, Chile
Tel: +56 2 467 6258
Cell: +56 9 75871963
Email: [email protected]