Announcements
ALMA Observatory donates astronomy books to the Antofagasta Regional Library
19 June, 2014 / Read time: 2 minutes
With the aim of increasing awareness of astronomy, Pierre Cox, director of the ALMA Observatory, this Wednesday delivered 18 books on astronomy to the recently inaugurated Regional Library of Antofagasta, one of the most modern libraries in Latin America.
Among the most notable books donated by ALMA are Carl Sagan's Cosmos and Stephen Hawking's The Universe in a Nutshell. Also now available to library users are books by renowned Chilean astronomer José Maza and A Briefer History of Time, written by Hawking and Leonard Mlodinow and based on the similarly named best-seller A Brief History of Time, which made Hawking famous.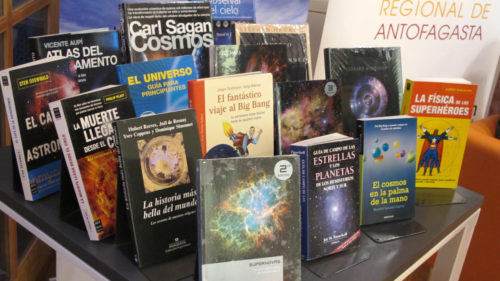 Credit: ALMA (ESO/NAOJ/NRAO), V. Foncea
With regard to the donation, Pierre Cox said that for ALMA "it is very important to be able to promote knowledge of astronomy in the country's cultural centers and everywhere we can be present, since it is increasingly necessary that people understand and share the amazing astronomical achievements that occur in Chile."
Cox signed a record of delivery of the books donated in a ceremony, along with the Director of the Regional Library of Antofagasta, Cristián Jorquera, who stressed the importance of the donation.  "We want to strengthen our collection in those areas of knowledge that are linked to activities in the Antofagasta Region, and among those astronomy is fundamental," Jorquera said.
The Astronomy Unit of the University of Antofagasta advised ALMA on the selection of the astronomy books donated to the library.
More Information
ALMA, an international astronomy facility, is a partnership of Europe, North America and East Asia in cooperation with the Republic of Chile. ALMA construction and operations are led on behalf of Europe by the European Southern Observatory (ESO), on behalf of North America by the National Radio Astronomy Observatory (NRAO), and on behalf of East Asia by the National Astronomical Observatory of Japan (NAOJ). The Joint ALMA Observatory (JAO) provides the unified leadership and management of the construction, commissioning and operation of ALMA.
Contact:
Valeria Foncea 
Education and Public Outreach Officer
Joint ALMA Observatory
Santiago, Chile
Tel: +56 2 467 6258
Cell: +56 9 75871963
Email: [email protected]