Announcements
ALMA participates in "Mattascopio," a book about painter Roberto Matta and the Universe
22 January, 2014 / Read time: 3 minutes
"I was born to unleash the sky," shouted Matta to the four winds, in a mythical book he published in the early 1960s. Matta's greatest contribution to art, according to contemporaries such as Marcel Duchamp and André Breton, is having discovered "the regions of space," or "renewing the grammar of the visual arts with elements that were newsworthy at the time, such as astrophysics."
"Mattascopio" is therefore a unique project, a book that invites the reader to become immersed in one of the central subjects of the work of painter Roberto Matta Echaurren: man's relationship to the Universe. His visual and philosophical proposal converge in this subject, as he envisaged the world through a "Mattascopio" (Mattascope), an instrument invented by the artist that gives new life to words, painting and thought.
In a project led by journalist and PhD, Marilú Ortiz de Rozas, and Ramuntcho Matta, a musician, multimedia artist and son of the Chilean surrealist, who died in 2002, "Mattascopio" has just been launched in a deluxe edition by Ediciones Universidad Católica, in collaboration with BTG Pactual and the ALMA Observatory.
The book contains texts by art historian Isabel Cruz, poet Raúl Zurita and four ALMA astronomers, including ALMA Director Pierre Cox, who shed light on this crucial subject in the painter's work. It also includes a selection of historical paintings alluding to the Universe from leading museums around the world, such as MoMA, the Pompidou Center, the Tate Gallery and the MET. The second part of the book presents an artistic parallel between details of a Matta painting and images of the Universe provided by the ALMA Observatory.
"Almatta" is the name of the chapter in which ALMA astronomers offer a scientific look at Matta's work and its relationship with their own research object, the Universe. "Of all the sciences and all the times, astronomy has been the closest to the visual arts, from the ancient petroglyphs to Galileo's first observations," said Pierre Cox, director of the observatory.
Initially, 5,000 copies of the "Mattascopio" will be distributed to universities, museums, research centers and public libraries in Chile, and BTG Pactual Chile will also give them as gifts to their clients. A public edition will be forthcoming two years from now.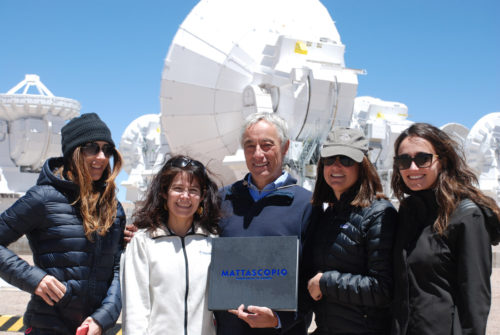 ALMA director, Pierre Cox, receives in Chajnantor the "Mattascopio" book from its author, Marilú Ortiz de Rosas (white jacket), along with Elisa Pérez from BTG Pactual, Cecilia Guzmán from Nexo and Anita Jorquiera, coordinator.
Contact:
Valeria Foncea 
Education and Public Outreach Officer
Joint ALMA Observatory
Santiago, Chile
Tel: +56 2 467 6258
Cell: +56 9 75871963
Email: [email protected]