Announcements
Huge Crowd for Night of Stars on Cerro San Cristóbal
25 December, 2013 / Read time: 2 minutes
Almost 800 people attended the second "Big Night of Stars in the Park" organized by Parque Metropolitano de Santiago and the ALMA Observatory on Saturday, December 21. The event's free activities allowed members of the public to enjoy music, learn about astronomy, and observe the skies through telescopes.

The Undersecretary for Housing and Urbanism, Francisco Irarrázabal, the director of Parque Metropolitano de Santiago, Mauricio Fabry, and the head of communications for the Atacama Large Millimeter/Submillimeter Array (ALMA), Valeria Foncea, hosted hundreds of families at the Pablo Neruda Amphitheater, with its unparalleled view of the city.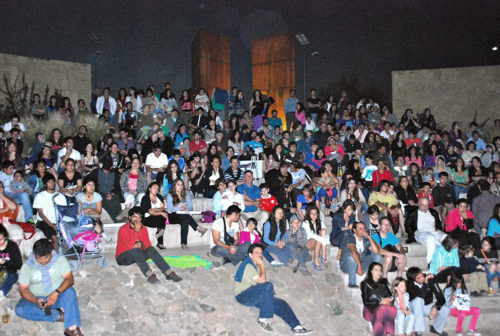 The event began with a musical performance by Claudio Guzmán, followed by a talk by ALMA astronomer Juan Cortés, who answered questions from audience members including children, young people and adults. The questions from children were diverse, such as: Why do stars exist? Will the "three Marys" (Orion's belt, known as "las tres Marías" in Latin America) disappear at the same time? Finally, those attending had the chance to observe Jupiter and other objects in the Universe through the five telescopes made available to them, meeting the event's objective of familiarizing families with astronomy.
More information
ALMA is a single telescope of revolutionary design comprised of 66 high-precision antennas, which are located on the Chajnantor Plateau at 5,000 meters above sea level in Chile's Atacama Desert. The telescope is operated by an international partnership that includes Europe, North America, and East Asia in collaboration with the Republic of Chile.
Contact:
Valeria Foncea 
Education and Public Outreach Officer
Joint ALMA Observatory
Santiago, Chile
Tel: +56 2 2467 6258
E-mail: [email protected]