Announcements
Making stars in our children's Universe
30 March, 2012 / Read time: 2 minutes
With the catch phrase "Making stars in our children's Universe," ALMA radio telescope workers carried out a fundraising campaign to buy playground equipment for the children of Toconao, the closest town.
An urgent need for playground equipment for children to engage in physical activity at the Lickan Antay preschool in Toconao was the motivation for the fundraising campaign at ALMA.
The donations obtained were used to install safe equipment that is highly resistant to fluctuating temperatures in the desert. The inauguration of the equipment was led by the children, teachers and parents of the preschool, as well as local authorities. The equipment was blessed through a traditional Lickan Antai ritual, "Pago a la Tierra" (Pay back the Earth), as well as a Catholic ceremony.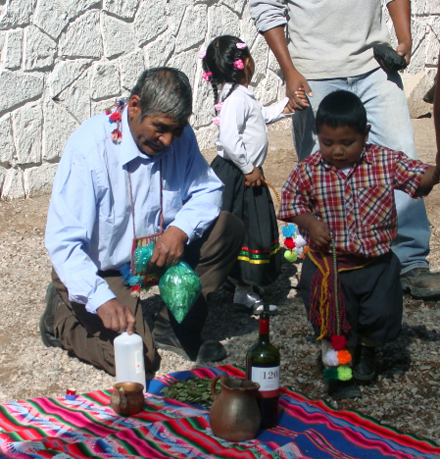 According to Suany Roco, the preschool director, "The children are happy and now it's hard to take them off the equipment because they love it." The smiles of 27 children are the result of a joint effort: the preschool -which is part of the Integra state network—enlarged its yard for the new equipment and parents installed sun shades.
This isn't the only example of how ALMA is contributing to the San Pedro de Atacama area and to Toconao in particular. Since 2009, the observatory has been providing educational support to the E-21 school through science and English learning programs. This initiative, which seeks to improve educational opportunities for the Toconao community, has shown excellent results: in recent years, the school has had the best scores on the SIMCE test in the Atacama Region.