Announcements
New Series Showcase Neighbour Communities Supported by ALMA
3 June, 2021 / Read time: 3 minutes
A relaxation room, a tourist map, a gym, and dental health services in remote communities are examples of projects featured in a new short video series and financed with funds provided by the ALMA observatory to support the Atacameño neighborhood communities.
ALMA and its partners (ESO, AUI/NRAO, and NAOJ) have contributed since 2004 to develop the Antofagasta Region, where the observatory is located, through the ALMA Region II Fund that promotes productive, social, and economic development in the San Pedro de Atacama commune. The ALMA Fund is intended for indigenous communities recognized by CONADI, made up of at least 80% indigenous people. This competitive fund has promoted many local initiatives, such as community tourism projects, water channeling, construction of community facilities and equipment, and water heating for homes using solar panels, among many others. In 2020 ALMA contributed approximately $ 349,500 to this fund, totaling more than $ 5.5 million to date.
"For us as a community, it is vital that ALMA has this approach. It shows concern about the well-being of our people and the well-being of all the communities that make up the San Pedro de Atacama commune," explains Carolina Colomar, president of the Atacameña Community of Machuca.
ALMA produced a new series of short films to feature the scope of the ALMA Region II Fund, showing some selected projects. The result is a series starring the same beneficiary communities:
Rainbow Valley - Sustainable tourism in the Rainbow Valley, located in the Rio Grande basin, about 90 km from San Pedro de Atacama. Here, the ALMA Fund financed a relaxation room for tourists in the middle of a colorful landscape. Eleven families from the Turi Hualka indigenous association have benefited from this project.
Alto Jama - Alto Jama residents now have a neighborhood gym thanks to purchasing machinery that has improved life in the community.
Dentistry in San Pedro - The Municipality of San Pedro de Atacama receives funds for almost 15 years now, mainly oriented to dentistry in the commune. It also allows care at the healthcare centers and rural medicine stations in Camar, Río Grande, Talabre, Toconao, and Socaire.
Talabre - The community of Talabre (60 km south of San Pedro de Atacama and 3,500 meters above sea level, at the foot of the Láscar volcano) wanted to strengthen tourism. In collaboration with the community, the idea was to develop a map to show the tourist what places they can visit, such as the Quesala ravine and its petroglyphs.
Cúcuter - Cucuter is an oasis of chañares and carob trees located 7 km south of San Pedro de Atacama. The ALMA Region II Fund financed training courses in tourism and archaeoastronomy to strengthen the community's quality of life.
Paso Jama - In Paso Jama, the ALMA Fund allowed constructing a bridge that connects those who live in areas with difficult access. And it also financed the 1st stage of building the casing of a water spring for human consumption.
Machuca - In this town located 80 km north of San Pedro de Atacama and at an altitude of 4,000 m, 50 people live. ALMA financed a first-aid room and its equipment to be used by the community and its visitors.
Abigail Lique Reales points out that "it is a mutual growth, both for ALMA and the communities."
Currently, the call for new development projects is open—all the information to apply in the following image (in Spanish).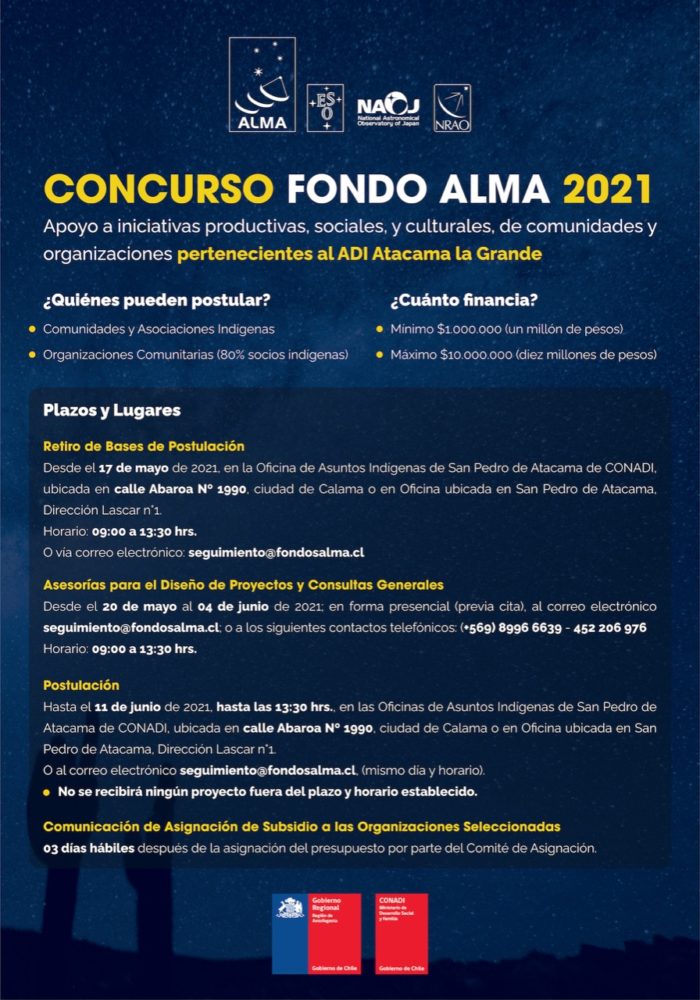 Contacts