Announcements
New spaces available to observe the Universe from the Telefónica tower heliport
24 November, 2015 / Read time: 2 minutes
Following the overwhelming success of the first round of observations of the Universe from the Telefónica tower heliport, held last Saturday in downtown Santiago, the Atacama Large Millimeter/submillimeter Array (ALMA) and Fundación Telefónica have offered a new session open to the public on Saturday, December 26, 2015.
Weekly tickets for two for the event will be raffled off every day to people who share photographs or videos of the exhibition in the Espacio Fundación Telefónica with the hashtags #ExpoALMA and #VerElUniversoDesdeTelefonica (see competition terms in the attached text – in Spanish).
This event is part of the exhibition "ALMA, in search of our cosmic origins", on exhibit by the most powerful astronomical observatory in the world in Espacio Fundación Telefónica (Av. Providencia 127, Santiago) until January, 2016. Over 17,000 people have already visited the exhibit and participated in its diverse activities. A summary of the experience to date can be seen in the attached video.
In addition, on Thursday, November 26, at 7:00 pm a round table on astro-engineering will be held to address the challenges and opportunities faced by the largest observatories in Chile.
The exhibition is divided into four sections: a room dedicated to children, with simple language and colorful illustrations; another space reserved for project history and construction – from conception to installation of the last antenna – with attractive photographs and videos.
Credit: © Agencia UNO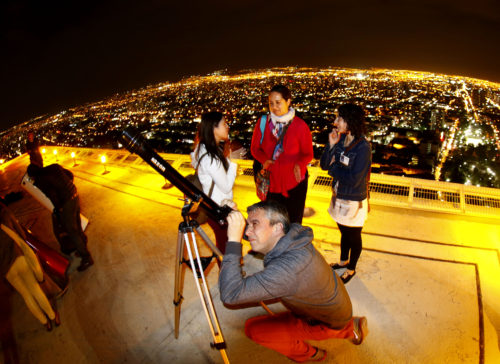 Credit: © Agencia UNO
The third room shows the main astronomical discoveries that have been made possible thanks to ALMA during the 4 years since the observatory "opened its eyes" and we saw the first image of the Cosmos.
And finally, a fourth area shares how the ancient inhabitants of what is now the ALMA site – the Atacameño community – interpreted the Universe. ALMA participated in an anthropological study named "The Universe of our Elders", which will soon come to light in the form of a book. The exhibit presents the first results and images of years of research.
Links
Contacts
Valeria Foncea

Education and Public Outreach Officer
Joint ALMA Observatory
Santiago, Chile
Tel: +56 2 467 6258
Cell: +56 9 75871963
Email: vfoncea@alma.cl