Announcements
Prominent visitors tour ALMA facilities
17 November, 2011 / Read time: 1 minute
The United States Ambassador to Chile, Alejandro D. Wolff, visited ALMA on Thursday, November 10 as part of his tour of the Antofagasta Region. Thijs de Graauw, Director of the radio telescope, welcomed the Ambassador and offered a tour of the facilities that will eventually consist of 66 antennas when finished in 2013.
Ambassador Wolff, who was appointed by President Barack Obama in October of last year, visited ALMA along with his wife, Alexandra Wolff, and Eduardo Hardy, representative in Chile of Associated Universities Inc. (UAI) and of the National Radio Astronomy Observatory (NRAO).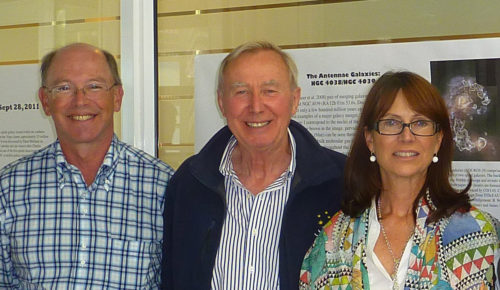 The U.S. Ambassador to Chile (l) and his wife (r) with the Director of the ALMA Observatory (c).
Two days previously, ALMA received another important authority, this time from the Chilean government: the Undersecretary of Foreign Affairs, Fernando Schmidt, who wanted to learn about the construction work and state of progress of the project. During his visit, Undersecretary Schmidt was also received by Thijs de Graauw, as well as other researchers.