Announcements
San Pedro de Atacama will have its first Science Fair
17 October, 2023 / Read time: 3 minutes
About fifteen stands with meteorites, various workshops, astro-inclusion, ALMA discoveries in 3D, solar telescopes and many other surprises will decorate the Plaza de San Pedro de Atacama this Thursday, October 19, and Friday, October 20, on the occasion of the first version of the Science Fair of this town.
Next to the stands, there will be talks on a variety of topics: the traditional educator of the Lickanantay culture, Tomás Vilca, will talk about the Andean worldview. Astronomer María Fernanda Durán from AUI-NRAO will explain how anyonecan get involved in astronomy from different experiences and skills. Giorgio Siringo, ALMA astronomer, will show us the most important discoveries achieved with ALMA in its first ten years of existence.
But this event, sponsored by the municipality, its public library and the ALMA observatory, will focus on astronomy and address multiple sciences. For example, Paula Ramos will give an account of the geological processes that occurred in the Salar de Atacama Basin and surrounding areas. And Diego Puca, a geologist from the Environment Unit of the Council of Atacameños Peoples, will explain how we can measure the rainfall using satellite estimates.
The mayor of San Pedro de Atacama, Justo Zuleta Santander, mentioned: "We are delighted to collaborate in the first Science Fair, an instance where children and adults will be able to learn about various phenomena of the Universe dynamically and entertainingly; we invite the community to participate in this fair and the activities that will be on October 19 and 20 in our civic plaza."
During these days of science celebration in San Pedro de Atacama to celebrate science month in Chile, attendees will be able to participate in entertaining workshops: they will be able to assemble their own ALMA antennas on paper and will be able to understand astronomy concepts without using sight and images, but using sounds and tactile models instead, just to mention a few workshops. Those who bring blank t-shirts will be able to print fun designs in the screen printing workshop.
There will even be a Star Party to contemplate the Universe organized by the astronomy tourism company Argonavis who will have night photography activities, live music and an observation sector with 7 telescopes. 10 tickets for this event will be raffled among Science Fair participants.
Students from San Pedro and Toconao will also have their stands where they will present what they have learned in their establishments about robotics, biology models, geology, etc.
Additional Information
ALMA is a partnership of ESO (representing its member states), NSF (USA) and NINS (Japan), together with NRC (Canada), NSTC and ASIAA (Taiwan), and KASI (Republic of Korea), in cooperation with the Republic of Chile. The Joint ALMA Observatory is operated by ESO, AUI/NRAO and NAOJ.
Video
---
Image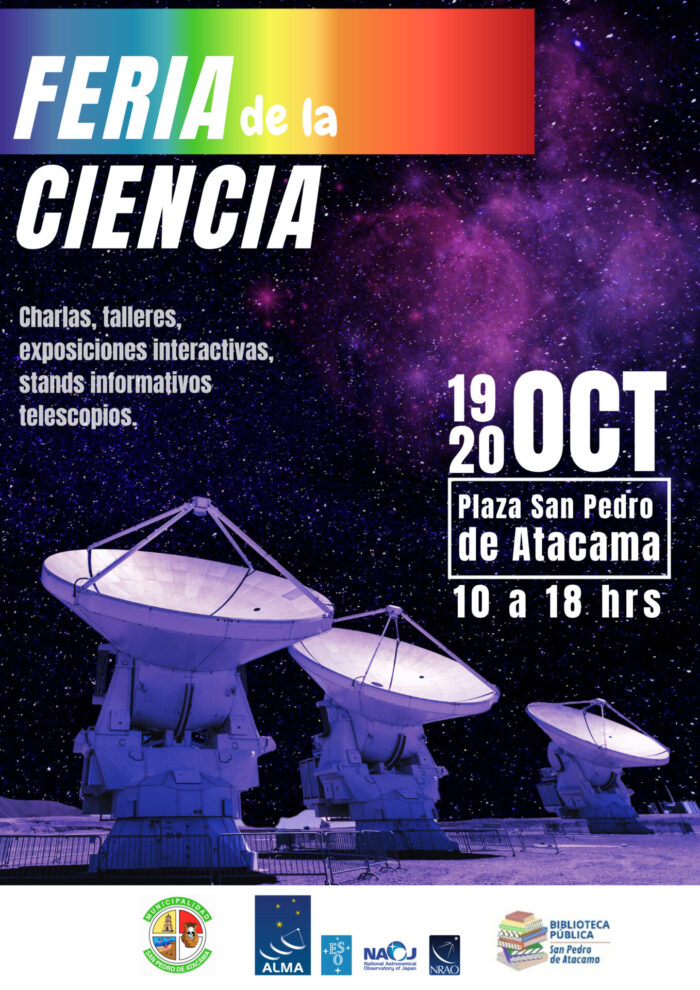 Contacts