Santiago residents participate in astronomical event organized by ALMA Observatory on San Cristóbal Hill
28 January, 2013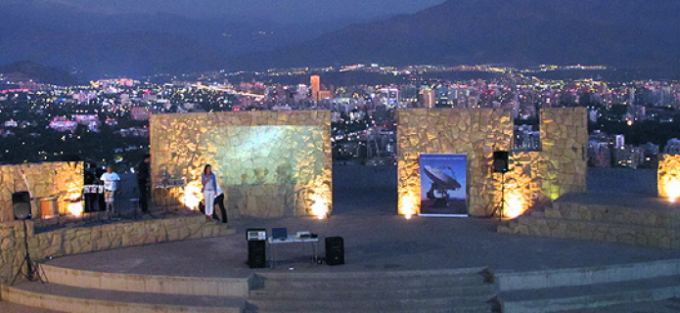 Santiago, January 28, 2013.- Families interested in astronomy filled the Pablo Neruda amphitheater in Santiago's Metropolitan Park under the night sky to hear astronomer Juan Cortés explain the unique qualities of the Atacama Large Millimeter/submillimeter Array (ALMA). The activity was part of the celebration of the opening of the observatory, which is scheduled for March 13 in the desert near San Pedro de Atacama.
About 650 adults and children attended the Star Night event on Saturday, January 26, invited by the Metropolitan Park of Santiago and the ALMA Observatory, and many took the opportunity to ask the astronomer questions after his presentation.
The astronomy talk was preceded by a music and dance performance by the musical group of Sagrados Corazones school in Providencia, and after the talk telescopes were made available to observe the Moon and Jupiter along with ALMA experts.
Attendees were allowed entrance to the Metropolitan Park for free and buses were made available so that all could participate.
ALMA, an international partnership of Europe, North America and East Asia in cooperation with the Republic of Chile, is the largest astronomical project in existence. ALMA will be a single telescope of revolutionary design, composed initially of 66 high-precision antennas located on the Chajnantor plateau at an altitude of 5,000 meters in northern Chile.
Contact:
Valeria Foncea
Education and Public Outreach Officer,
Joint ALMA Observatory
Santiago, Chile
Tel: +56 2 467 6258
Cell: +56 9 75871963
Email: vfoncea@alma.cl