Announcements
Winner of the Symmetry Residency Program Receives MIT Visual Arts Award
3 June, 2020 / Read time: 4 minutes
Chilean architect and musician Nicole L'Huillier, PhD candidate of the MIT Media Lab's "Opera of the Future", was the recipient of the Harold y Arlene Schnitzer Prize in the Visual Arts. This award is given out annually to MIT students for their excellence in art. The winning project, titled "El Poema de la Fábrica Cósmica" ("The Poem of the Cosmic Factory"), was the same piece created in August last year as part of the Symmetry art residency at the ALMA Observatory and the VLT on Cerro Paranal in Chile, and the Large Hadron Collider at CERN in Geneva, Switzerland.
"This award has been a great surprise and fills me with joy! I am very honored to have been awarded first prize," proclaims Nicole. "This acknowledgment has opened new possibilities for the future and I hope that it leads to more collaborations and interesting dialog."
It was during her visit to these three scientific centers that the artist worked on the winning project, titled El Poema de la Fábrica Cósmica (The Poem of the Cosmic Factory). This piece consists of a kinetic sound sculpture called PARACANTORA, equipped with different listening devices and environmental sensors -for barometric pressure, altitude, temperature, accelerometer, electromagnetic fields, anemometer, wind turbine, and other sensors- that map different environmental sounds from these sites in real time, creating a musical interpretation of each site. "This is an exercise of listening to emerge together, stimulate perception, confuse reality and resonate with the sense that we are as much a part of nature as we are part of culture," says Nicole in reference to her project.
The Schnitzer prize winner receives 5,000 US dollars and the project is traditionally placed on display at the MIT Wiesner Student Art Gallery. However, due to physical distancing requirements to limit the propagation of COVID-19, a selection of the winning projects will be available online.
Symmetry is an artistic-scientific exchange program that invites an artist from Chile and Switzerland to a shared residency program in some of the most extraordinary scientific research centers in the world. The initiative is organized in conjunction with Arts at CERN, ALMA, ESO, the Chilean Corporation of Video and Electronic Arts, the New Media Area of the Chilean Ministry of Culture, Arts and Heritage, and the United Nations Educational, Scientific and Cultural Organization (UNESCO). The artistic-scientific exchange program is also backed by the Swiss Arts Council Pro Helvetia, as part of its "COINCIDENCIA – Swiss & South American cultural exchange" program.
For Nicole, "the residency was an infinitely enriching experience. The opportunity to 'live' in CERN, ALMA and Paranal was atomic. Every day, we met at least three scientists who blew our minds and we visited the facilities, delicate sensors and mega detectors. This led us to think on different scales and planes of existence."
Additional Information
ALMA is a partnership between ESO (on behalf of its European Member States), NSF (USA), and NINS (Japan); together with NRC (Canada), MOST and ASIAA (Taiwan), and KASI (Republic of Korea), in cooperation with the Republic of Chile. The Joint ALMA Observatory is operated by ESO, AUI/NRAO, and NAOJ.
Image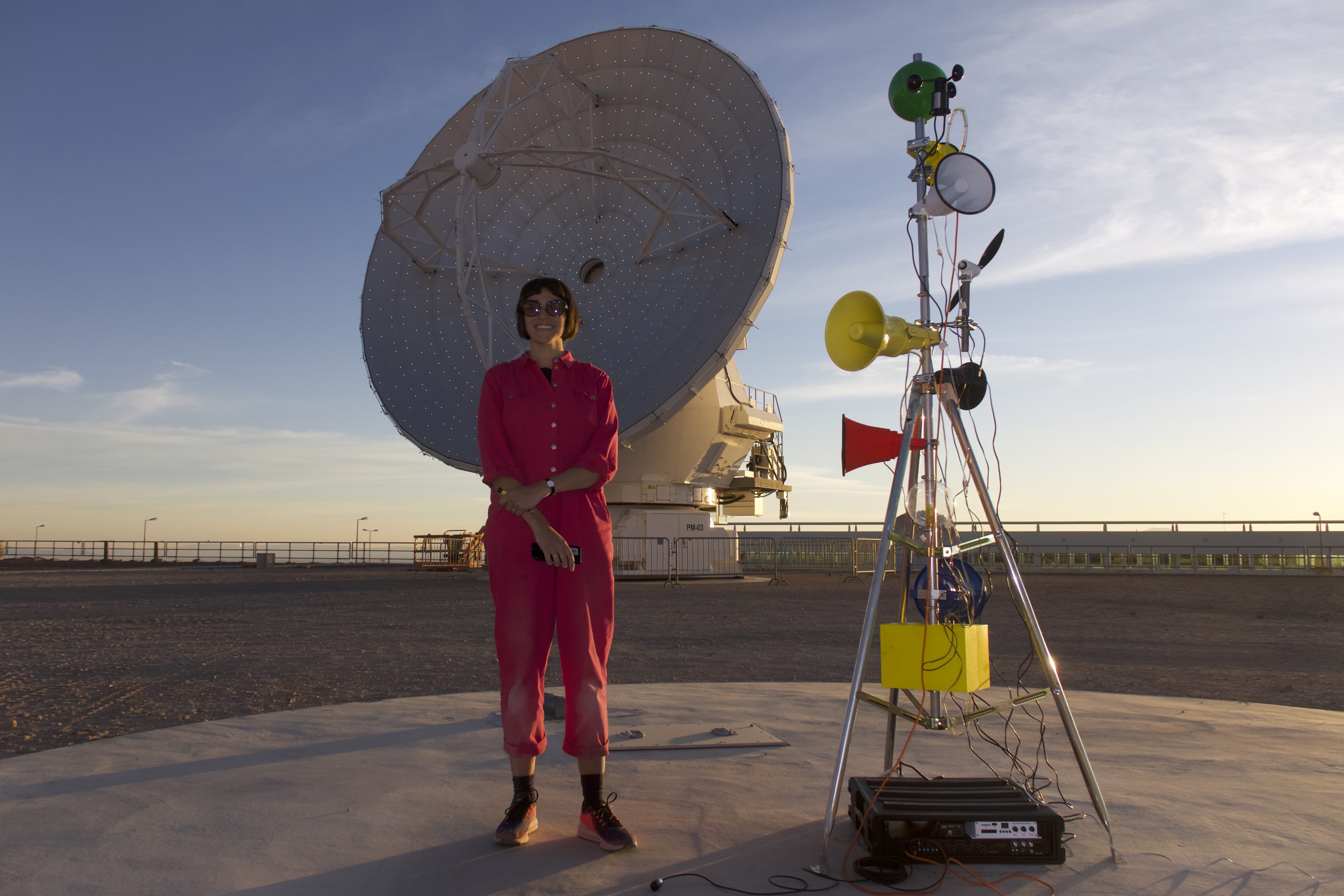 Video
Contacts