Announcements
ALMA assists neighbors after devastating rainstorm
8 March, 2012 / Read time: 3 minutes
On February 12, strong rains in the area affected the town of Toconao, with flooding that left 20 families homeless. To assist in this emergency, ALMA employees took the initiative to help their neighbors, organizing a fundraising drive. To ensure the donation would be used where it would be most effective, employees met with the Mayor of San Pedro, Sandra Berna, who said the greatest need was for construction materials, specifically roofing.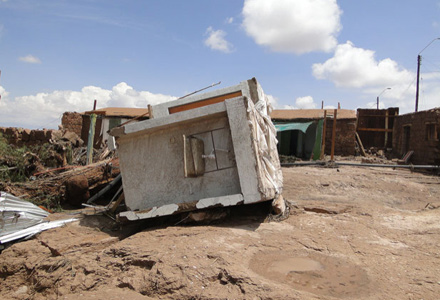 Credit: Municipalidad de San Pedro de Atacama
Andrés Culagovski, ALMA's legal affairs coordinator who maintains close contacts in the community, highlighted the interest and commitment to Toconao of ALMA's employees. "Although the people at ALMA were concerned about ALMA's own infrastructure and preventing the facilities from getting cut off, they were equally worried about our closest neighbors."
On Saturday, March 3, the funds donated by ALMA employees were used to purchase metal roofing, beams and nails which were then delivered to the Toconao Residents' Committee.
Diego Rojas, ALMA site manager, was one of the people who delivered the materials. "When we arrived at the office of the Toconao Residents' Committee with the construction materials, people started to gather and with other volunteers they helped us unload the truck," he said. "Some of them had lost their homes and they were very happy and grateful for the help we gave them."
This sense of appreciation was confirmed by Elisa Vilte Mamani, President of the Toconao Residents' Committee, who said the affected families are gradually receiving the materials. "They're very pleased," said Elisa Vilte. "This is a big help, because these materials are very expensive for us." She also explained that most of homes had roofing made of straw, cortadera (a local bush), mud, reeds and beams, which was unable to withstand the huge quantity of rain. In addition, now all of the houses on Kimal street that were affected by a landslide will have to be restored and relocated given the risk of similar events occurring in the future.
Damage to ALMA facilities
At the request of the regional Traffic Directorate authorities, ALMA management blocked the ALMA access road from Route 23 to allow the evacuation of water that had accumulated as a result of the rains. This was aimed at preventing damage to the public road that connecting San Pedro with Toconao. Also, the road that connects the ALMA Operations Center (OSF) to the Chajnantor Plain was reinforced, specifically at kilometer 26, in order to prevent further damage. Also, ALMA work shifts were changed to prevent the effects of possibly getting trapped due to flooding, which ultimately did not happen.