Press Releases
ALMA Unlocks Secrets of the Universe: Revealing the Hidden Seeds of Giant Stars
20 June, 2023 / Read time: 4 minutes
ALMA's cutting-edge capabilities lead to groundbreaking insights into the birth of high-mass stars, the cosmic giants responsible for the elements that make life possible.
Using the Atacama Large Millimeter/submillimeter Array (ALMA), an international research team led by Kaho Morii, Patricio Sanhueza, and Fumitaka Nakamura has made a pioneering discovery, unveiling over 800 "stellar seeds" nestled within massive cosmic clouds. These insights are monumental in decoding the enigmatic process of high-mass star formation, an essential cog in generating life's building blocks.
ALMA's state-of-the-art sensitivity and resolution proved pivotal in shedding light on this mystery. The researchers used ALMA to peer into 39 massive cosmic clouds, known as Infrared Dark Clouds (IRDCs), believed to be the nurseries of high-mass stars.
With ALMA's capabilities, over 800 stellar seeds, or molecular cloud cores, were identified within these clouds, making it the most extensive sample ever discovered. Astoundingly, 99% of these seeds lack the mass typically thought necessary to grow into high-mass stars. This groundbreaking observation indicates that high-mass stars might follow a different growth trajectory than smaller stars. Moreover, it was observed that core density, rather than mass, may be the critical factor in high-mass star formation.
Kaho Morii, a graduate student at the University of Tokyo, shared, "We have shown with more certainty than previous studies that high-mass stars have a different growth scenario from low-mass stars. Also, we can infer that denser cores in clusters may grow up more efficiently by accumulating surrounding materials. It seems that the environment of dense material is more important than the original mass for massive stars formation."
Patricio Sanhueza of the National Astronomical Observatory of Japan and part of the ALMA project commented, "The extensive catalog of stellar seeds generated through this study serves as a vital cornerstone for enhancing our comprehension of high-mass star formation and refining existing models in this field."
ALMA's instrumental role in this historic discovery brings the scientific community a leap closer to understanding the mysterious birth of high-mass stars. By uncovering the seeds of these cosmic giants, we edge ever closer to comprehending the creation of elements and the complexity of the universe.
Additional Information
These observation results were published as Kaho Morii et al. "The ALMA Survey of 70μm Dark High-mass Clumps in Early Stages (ASHES). IX. Physical Properties and Spatial Distribution of Cores in IRDCs" in the Astrophysical Journal on June X, 2023 (doi: 10.3847/1538-4357/acccea).
This work is supported by a Grant-in-Aid from the Japan Society for the Promotion of Science (JP22J21529, JP22H01271, JP23H01221), World-leading Innovative Graduate Study Program (WINGS) of the University of Tokyo, DFG in the Collaborative Research Center SFB 881 (Project ID 138713538) "The Milky Way System" (subproject B1), and ANID BASAL project FB210003.
This press release is adapted from the original one published by the National Astronomical Observatory of Japan (NAOJ), an ALMA partner on behalf of East Asia.
The Atacama Large Millimeter/submillimeter Array (ALMA), an international astronomy facility, is a partnership of the European Organization for Astronomical Research in the Southern Hemisphere (ESO), the U.S. National Science Foundation (NSF) and the National Institutes of Natural Sciences (NINS) of Japan in cooperation with the Republic of Chile. ALMA is funded by ESO on behalf of its Member States, by NSF in cooperation with the National Research Council of Canada (NRC) and the National Science and Technology Council (NSTC) in Taiwan and by NINS in cooperation with the Academia Sinica (AS) in Taiwan and the Korea Astronomy and Space Science Institute (KASI).
ALMA construction and operations are led by ESO on behalf of its Member States; by the National Radio Astronomy Observatory (NRAO), managed by Associated Universities, Inc. (AUI), on behalf of North America; and by the National Astronomical Observatory of Japan (NAOJ) on behalf of East Asia. The Joint ALMA Observatory (JAO) provides the unified leadership and management of the construction, commissioning and operation of ALMA.
Images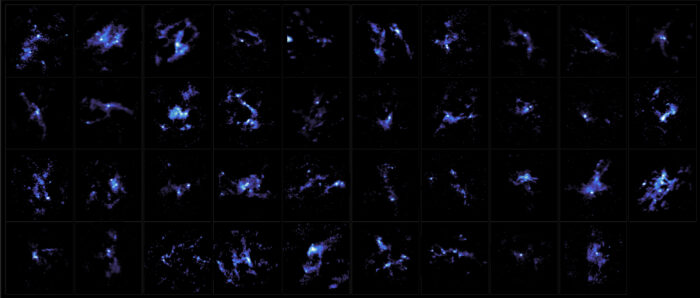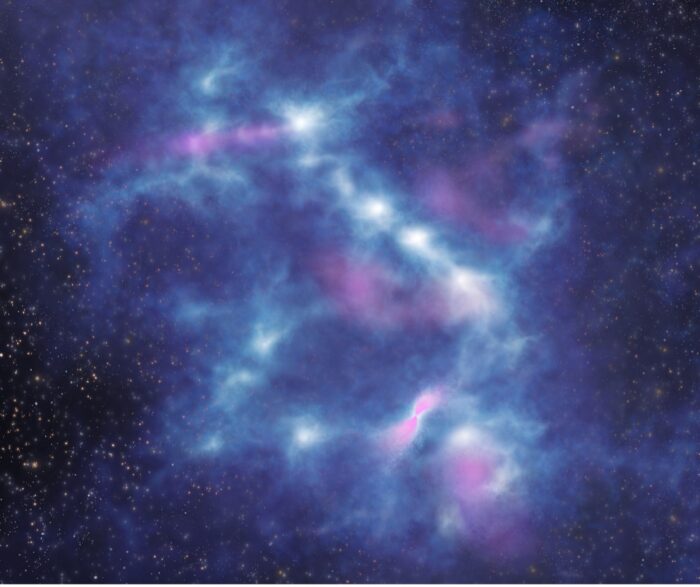 Contacts