Press Releases
ALMA Unveils Cosmic Nursery and Stellar Graveyard in Most Remote Galaxy Ever Observed
14 July, 2023 / Read time: 6 minutes
Scientific Paper
Astronomers glean vital insights into the birth and death of stars through unprecedented high-resolution imaging of an ancient galaxy.
An international team of astronomers, spearheaded by Professor Yoichi Tamura of Nagoya University, has achieved an astronomical tour de force by capturing high-resolution images of a fledgling galaxy that existed a mere 600 million years after the Big Bang. These groundbreaking images, obtained with the Atacama Large Millimeter/submillimeter Array (ALMA), have shed light on previously unseen structures formed through the interplay of dark and emission nebulae.
The ALMA radio images paint a captivating tapestry where these nebulae coalesce to form a gargantuan cavity reminiscent of a 'superbubble'. This superbubble is believed to have been formed by the birth of vibrant stars and the subsequent shockwaves created by supernova explosions. These revelations are paramount for understanding the enigmatic processes associated with the formation of galaxies and the cycles of stellar birth and death.
The team commenced its pioneering exploration into ultra-distant galaxies with ALMA in 2012 and achieved a major breakthrough in 2016 by detecting radio waves from oxygen in a record-setting distant galaxy. They continued to push the envelope, identifying the most distant galaxy ever known by detecting radio waves emitted by oxygen 13.28 billion light-years away in 2018.
In 2019, the researchers further refined their discoveries by detecting radio waves emitted by both oxygen and dust in another galaxy called MACS0416_Y1, located 13.2 billion light-years away. The detection of dust in the early Universe, where the cycle of the reincarnation of stars had not yet repeated extensively, was a remarkable finding that marked a milestone in our understanding of the Universe.
One of the remarkable findings from these observations is the presence of dark nebulae in the early universe. Dark nebulae are dense clouds of cold dust and gas that obscure starlight and are known to be the crucibles where stars are born. The team's intricate observations reveal the life cycle within these dark nebulae; stars are born, they live, and they die, giving rise to new stars.
In their most recent endeavor, the research team achieved unparalleled high-resolution images of MACS0416_Y1. By configuring ALMA's antennas akin to a zoom lens and employing a 28-hour-long exposure, they were able to discern the origins of radio waves emitted by dust and oxygen, depicting how emission and dark nebulae are closely intertwined, each carving out its own space. This delicate dance is indicative of a process where new stars born within the dark nebulae ionize the surrounding gas.
Moreover, the images reveal a colossal cavity, spanning approximately 1,000 light-years, at the center of the galaxy, which is possibly a superbubble. Prior studies indicated that MACS0416_Y1 was producing stars at an astonishing rate, about 100 times higher than that of the Milky Way. This frenzied pace of star formation likely led to the creation of this superbubble through consecutive supernova explosions.
The team was also able to analyze the motion of gas within the nebulae, finding it to be in a turbulent state, with speeds reaching up to an astounding 200,000 kilometers per hour. "Under such turbulent conditions, it is suggested that stars may form as massive clusters," remarks Professor Tamura. He further noted that these massive star clusters are characteristic of galaxies in the early Universe.
Dr. Takuya Hashimoto from the University of Tsukuba lauded ALMA's performance, stating, "It corresponds to capturing the extremely weak light emitted by two fireflies located 3 centimeters apart on the summit of Mount Fuji as seen from Tokyo, and being able to distinguish between those two fireflies. The significance of this study lies in bringing out the ultimate performance of ALMA, leading to an understanding of the formation of early galaxies, the life and death of stars, and the ecocycle of matter in the Universe."
Additional Information
These observation results were published as Yoichi Tamura et al. "The 300-parsec resolution imaging of a z = 8.31 galaxy: Turbulent ionized gas and potential stellar feedback 600 million years after the Big Bang" in the Astrophysical Journal on July 13, 2023 (DOI: 10.3847/1538-4357/acd637).
This work is supported by a Grant-in-Aid from the Japan Society for the Promotion of Science (17H06130, 19H01931, 20H01951, 20H05861, 20K22358, 21H01128, 21H04496, 22J21948, 22H01258, 22H04939), NAOJ ALMA Scientific Research Grant (2018-09B, 2020-16B), and Leading Initiative for Excellent Young Researchers, MEXT, Japan (HJH02007).
This Press Releases is adapted from the original text released by the National Astronomical Observatory of Japan, an ALMA partner on behalf of East Asia.
The Atacama Large Millimeter/submillimeter Array (ALMA), an international astronomy facility, is a partnership of the European Organization for Astronomical Research in the Southern Hemisphere (ESO), the U.S. National Science Foundation (NSF) and the National Institutes of Natural Sciences (NINS) of Japan in cooperation with the Republic of Chile. ALMA is funded by ESO on behalf of its Member States, by NSF in cooperation with the National Research Council of Canada (NRC) and the National Science and Technology Council (NSTC) in Taiwan and by NINS in cooperation with the Academia Sinica (AS) in Taiwan and the Korea Astronomy and Space Science Institute (KASI).
ALMA construction and operations are led by ESO on behalf of its Member States; by the National Radio Astronomy Observatory (NRAO), managed by Associated Universities, Inc. (AUI), on behalf of North America; and by the National Astronomical Observatory of Japan (NAOJ) on behalf of East Asia. The Joint ALMA Observatory (JAO) provides the unified leadership and management of the construction, commissioning and operation of ALMA.
Images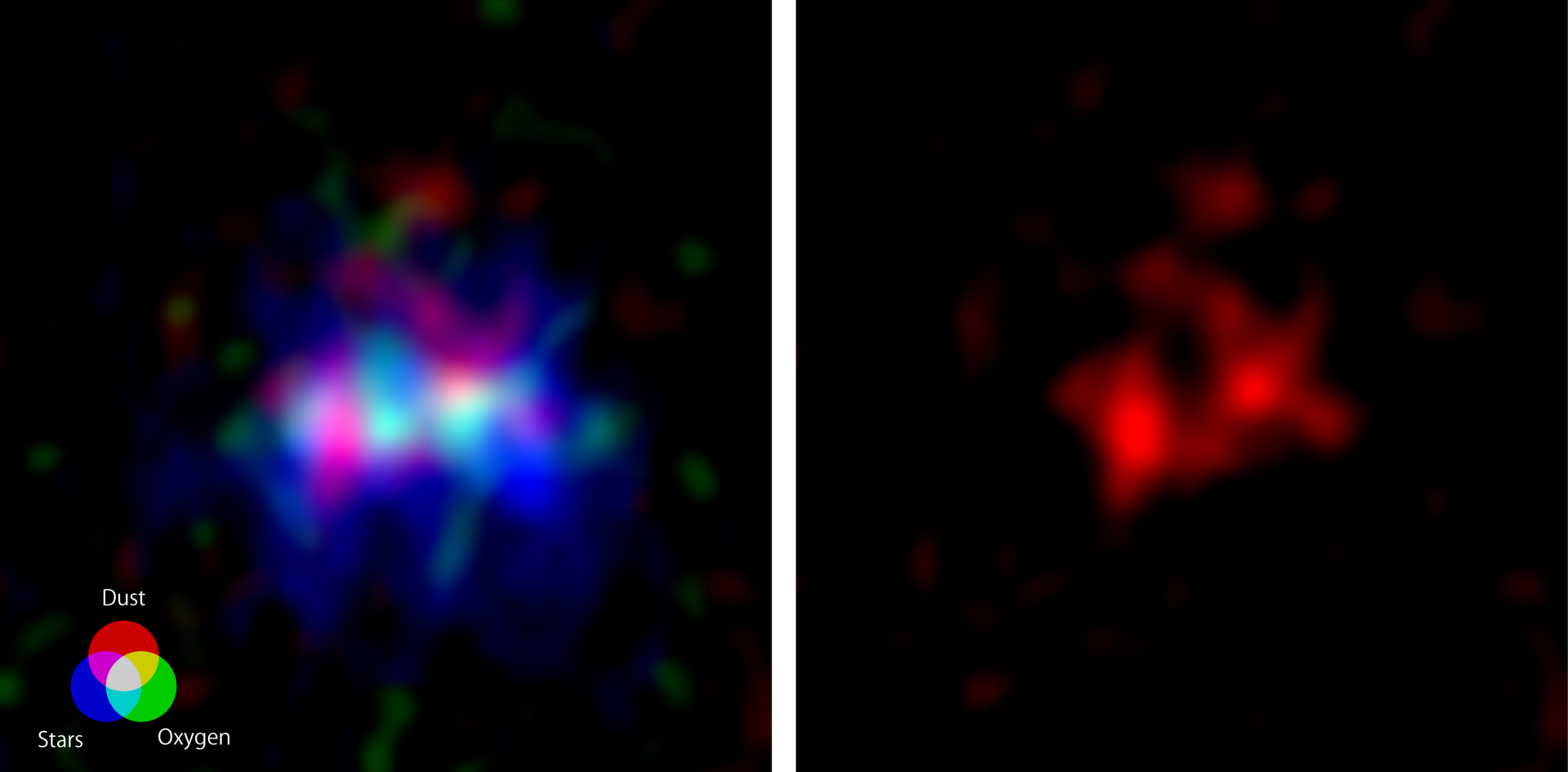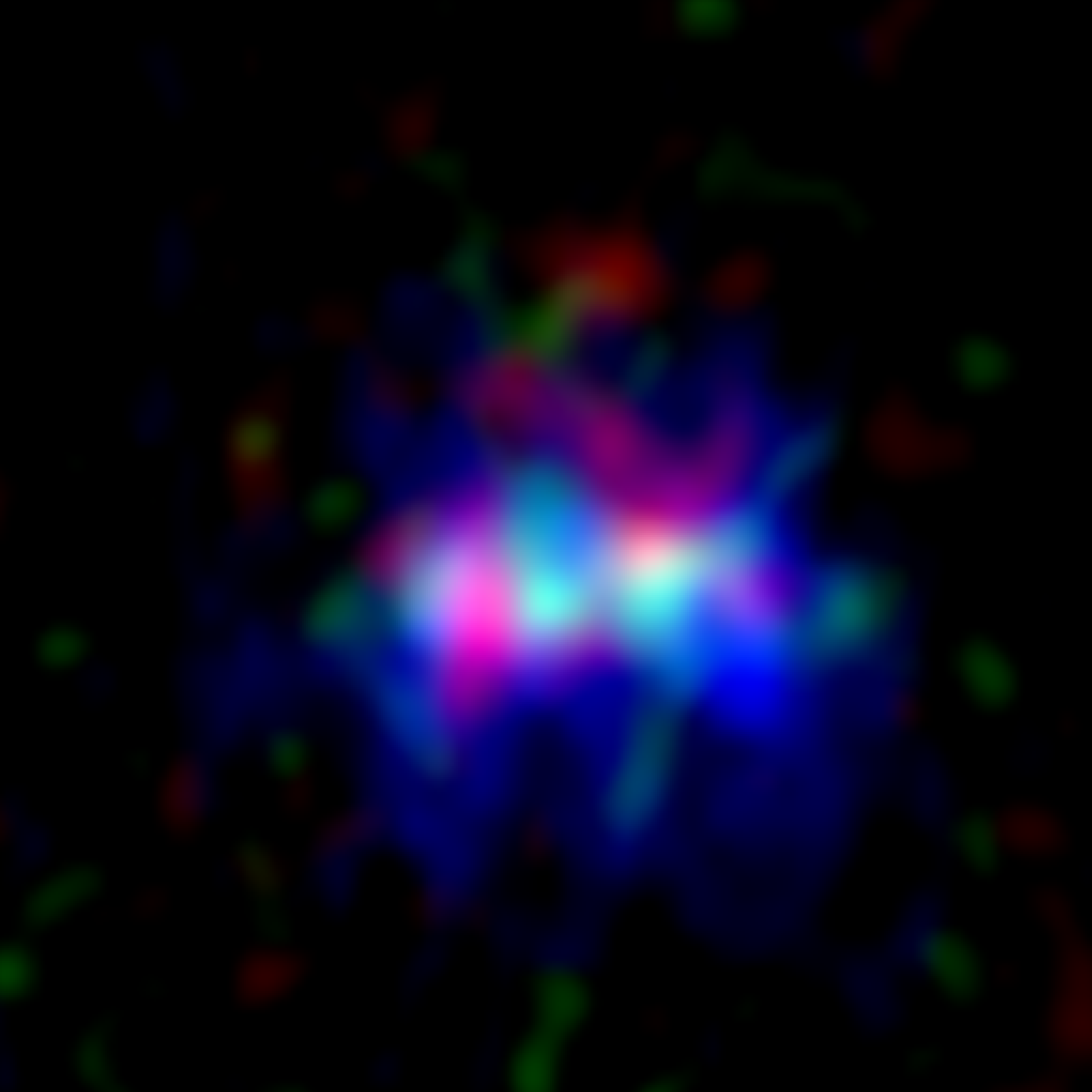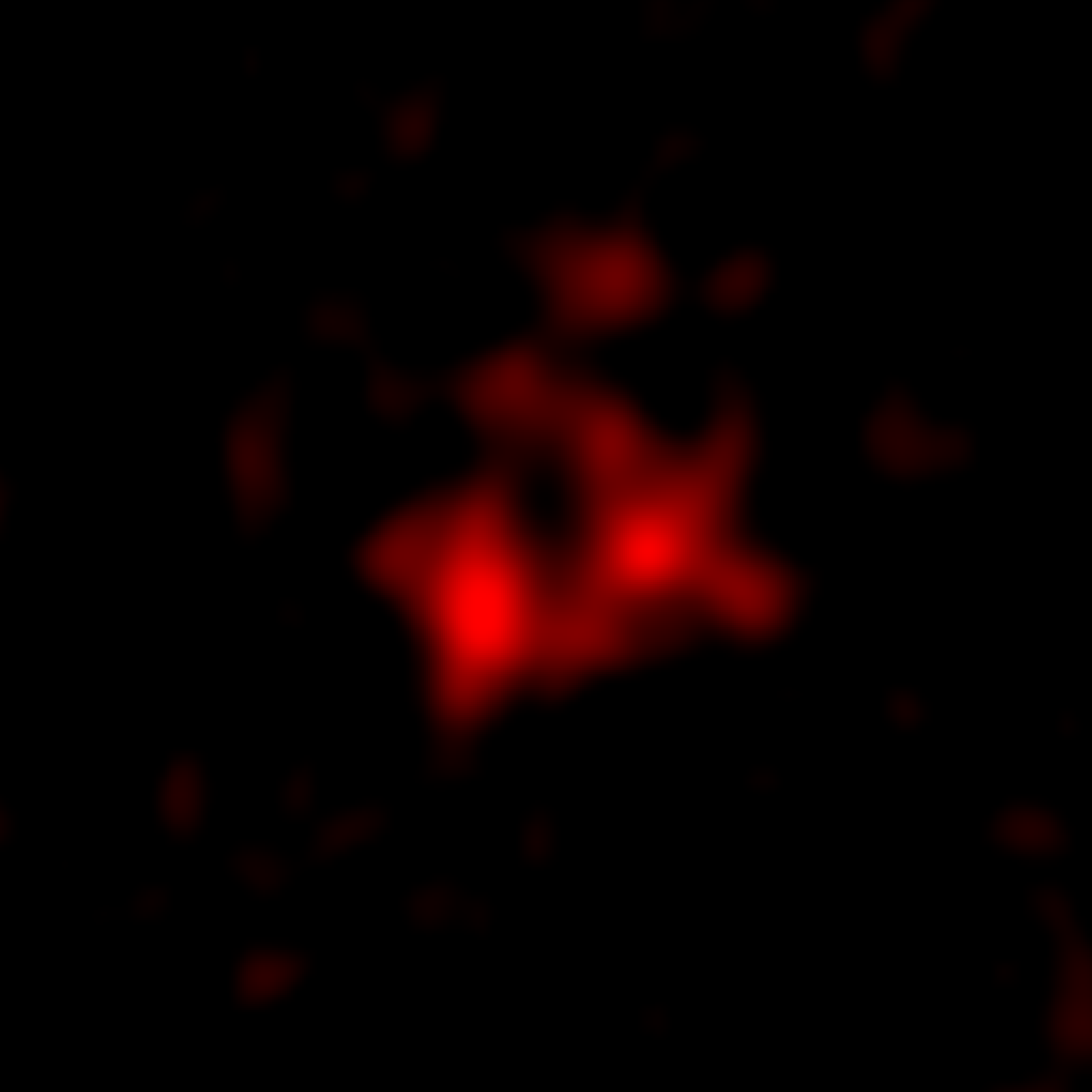 Contacts